Think of your skills, your talent, your experiences. Innovate.
- Ms. Pacita "Chit" Juan
It is no secret that a lot of small local businesses including many creative conscious enterprises have been impacted greatly because of COVID. The sudden change in landscape has caught the local startup ecosystem by surprise and even until today, businesses are still figuring out how they can adapt to this new normal. And SO we ask ourselves, how might we create new beginnings in this new normal.
To kick off this summit, we're so pleased to have our speaker say yes to Sparkability. She has been a constant peg for us at The Spark Project. Listening to her speak in one of the social enterprise conferences we've attended when we were still at the beginning of our journey really motivated us to starting The Spark Project.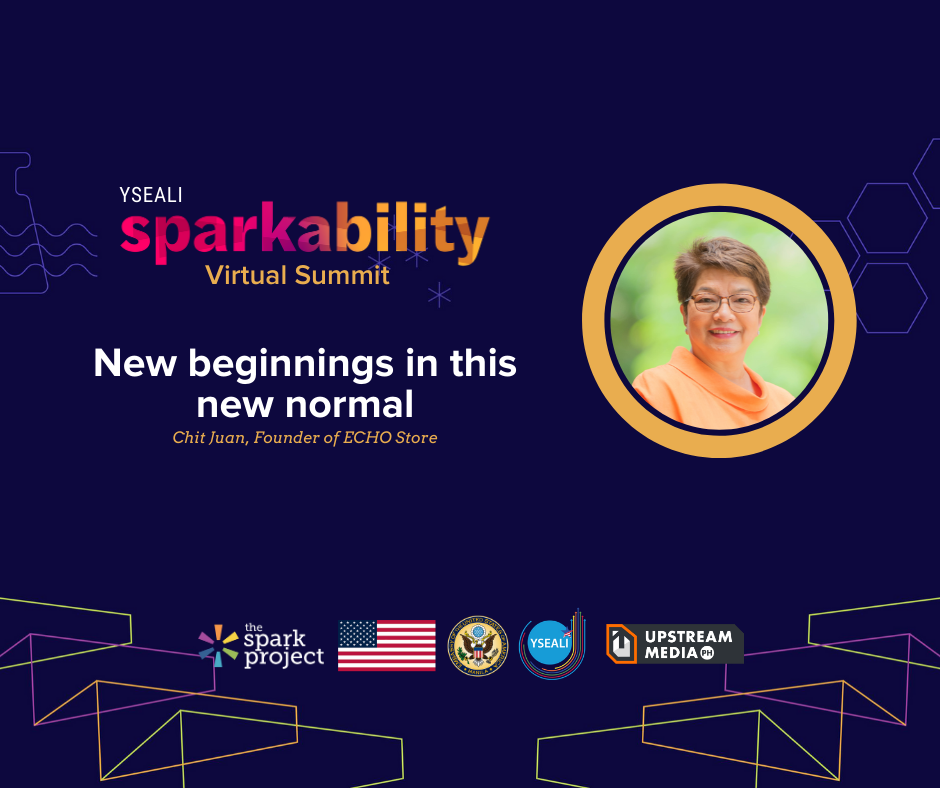 Spark with Chit Juan!
A Social Entrepreneur, Green Advocate, Coffee Crusader and Advocate for Women Empowerment through Business. She has started many businesses and among them are: a coffee shop chain, a Filipino quick service restaurant, a farm to table restaurant and a natural and an organic store called ECHOstore. She is a strong advocate of Slow Food, organic farming and sustainable agri-based businesses. 
She is President and Co-Chair of the Philippine Coffee Board,Inc.(PCBI), and Founder of the Philippine chapter of International Women's Coffee Alliance (IWCA) .
She has written three books on coffee namely: KAPE (2002), BARAKO : The Big Bean (on Liberica coffee) (2005) and The Barista Manual (2013). She contributes to Starweek, Philippine Tatler and various other magazines and publications.
Spark a BETTER normal with these Sparkability Courses, too!
Missed out on the first ever Sparkability Virtual Summit? You can watch them here.
The Spark Project in partnership with YSEALI Philippines and the US Embassy in the Philippines hosted the first ever Sparkability Virtual Summit last May 2020. This online event, brought together different experts in a virtual series of talks and workshops on how social and creative enterprises can restart and find their spark in this new normal, and how they can seek and seize new opportunities for their business, as well as the communities that they look after.