Being helpful, useful, or uplifting is particularly important given the big picture context today
- Gino Borromeo
I hope everyone learned a lot from our speakers in Day 1. Ms Chit Juan as she talked about going back to the drawing board, going back to basics, but still innovating in the new normal, Coach Kitty as she talked about how we can transition and start creating new beginnings during this time, and Joie as she shared with us how we can use the design thinking process to seek and seize new solutions and business ideas for our creative conscious enterprises.
To kick off our second day, we have an awesome speaker with years of marketing experience under his belt. His name is Gino Borromeo.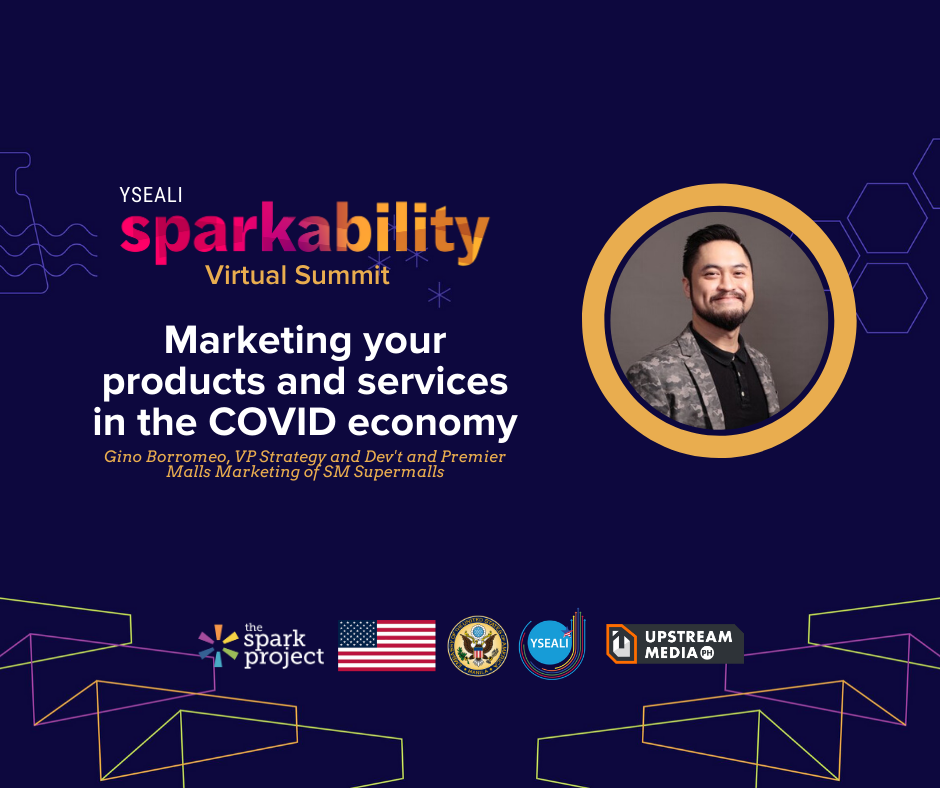 Spark with Gino!
Gino looks after the growth strategy for SM Supermalls while helping guide the development of new malls and expansion projects. He also oversees marketing for the group's Premier Malls.
In his spare time, Gino is a mentor for Makesense Philippines, helping mentor early stage social entrepreneur start-ups.
Before joining SM Supermalls, Gino was Chief Strategy Officer at McCann Worldgroup Philippines, the country's largest marketing communications agency. At McCann Philippines, he led a cross-functional team of 15 strategists covering expertise in brand strategy, social media, healthcare, eCommerce, digital media and data analytics.
A strategist by training, Gino brings 20 years of hands-on strategy experience for brands at the local, regional and global levels.
Spark a BETTER normal with these Sparkability Courses, too!
Missed out on the first ever Sparkability Virtual Summit? You can watch them here.
The Spark Project in partnership with YSEALI Philippines and the US Embassy in the Philippines hosted the first ever Sparkability Virtual Summit last May 2020. This online event, brought together different experts in a virtual series of talks and workshops on how social and creative enterprises can restart and find their spark in this new normal, and how they can seek and seize new opportunities for their business, as well as the communities that they look after.