Design is creative problem solving
- Joie Cruz
Because of COVID-19, most of us find ourselves stuck, figuring out what to do with our social enterprises. Maybe now we are in our neutral zone as Coach Kitty would describe it and exploring possibilities for our new beginnings. Now that we're ready to take matters in our own hands, how do we start. Where do we begin?
Create limitless possibilities. Transform challenges into opportunities. That is how we rise. In addition to adapting to global changes, local industries should contribute their ideas. This session with Joie revolves around three key concepts: Inspiration, Ideation and Experimentation. We entrepreneurs have to create opportunities for our enterprises.
How? Through design.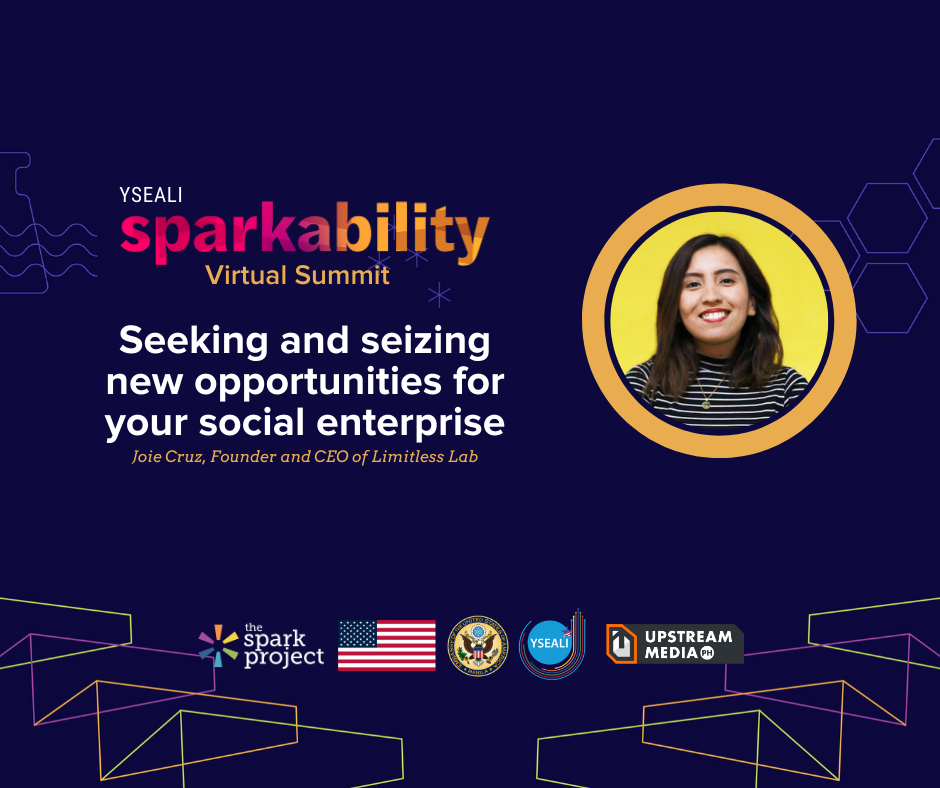 Spark with Joie!
Our speaker, Joie Cruz, is an alumus at the Young Southeast Asian Leaders Initiative.
She is an entrepreneur, designer, and innovation consultant with more than 5 years of experience in the social innovation space. She is the founder and CEO of Limitless Lab – a design thinking and innovation agency, and Bayanivation – a tech startup promoting innovation in local government units.
Joie regularly facilitates design thinking and UX workshops, design sprints, storytelling and brand design workshops for progressive corporations, government agencies, and NGOs.
Outside of work, she spends her time studying more about spirituality, plant-based lifestyle, meditation, and personal growth.
Spark a BETTER normal with these Sparkability Courses, too!
Missed out on the first ever Sparkability Virtual Summit? You can watch them here.
The Spark Project in partnership with YSEALI Philippines and the US Embassy in the Philippines hosted the first ever Sparkability Virtual Summit last May 2020. This online event, brought together different experts in a virtual series of talks and workshops on how social and creative enterprises can restart and find their spark in this new normal, and how they can seek and seize new opportunities for their business, as well as the communities that they look after.